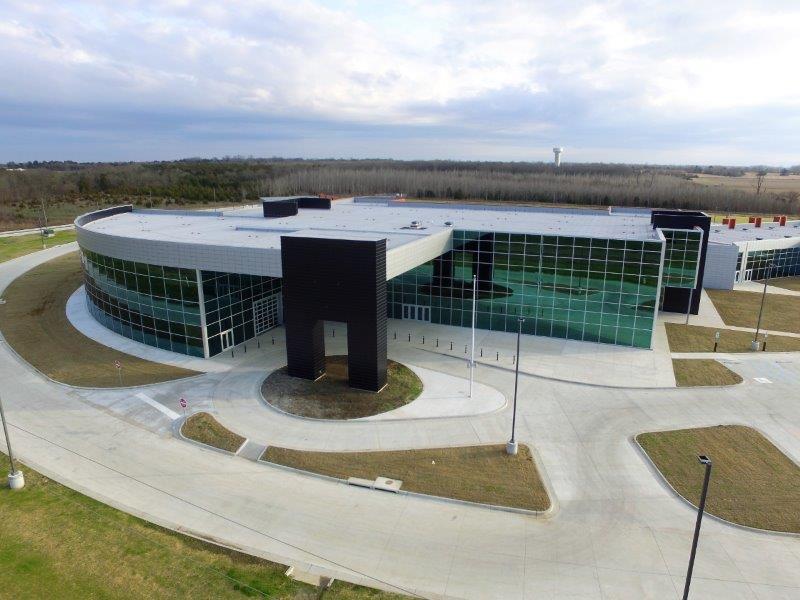 East Mississippi Community College's Communiversity will house credit and non-credit courses related to training students for careers in advanced manufacturing. The facility will boast state-of-the art equipment needed to prepare students to work in high-tech industries.
In October 2016, Columbus-based West Brothers Construction was awarded the contract to construct the $42 million, 145,638-square-foot facility to be built at the entrance to the Golden Triangle Regional Global Industrial Aerospace Park in Lowndes County. PryorMorrow of Columbus is the project architect for the facility also known as the "Communiversity."
An official groundbreaking took place in December 2016 and construction has been under way ever since. The facility is expected to open in early 2019.
Much of the student training will take place in 21 high-bay laboratories designed to allow the easy access for the setup and removal of heavy machinery like that used by area manufacturers. Most of the bays will be housed inside two, single story wings that will intersect the main building at 45-degree angles.
Programs that will have dedicated space in the bays are: Automation and Control Technology; Electrical Technology; Electro-Mechanical Technology; Engineering Technology; Drafting and Design; Mechatronics Technician; and Precision Manufacturing and Machining Technology.
Space will also be made accessible to manufacturers to train their employees and prospective new hires. Dining and seminar facilities will be available for educational, business and civic purposes.
The main building will feature sweeping, curved lines and a wall of glass that faces outward, with a large open space inside for exhibits by local industries to showcase their products. Students from area schools will be able to tour the building and learn about the technology that goes into making the various products.
There will be spacious classrooms, computer labs, and office space on the second floor, with student lounge areas scattered throughout the building.
In 2017, U.S. Sen. Thad Cochran and the Appalachian Regional Commission announced the award of a $4.6 grant to construct six high-bay classrooms in addition to the 15 already planned. This was the second grant by the ARC, which has provided $10 million for the project. Other funding partners for the $42 million facility include the Mississippi Legislature and Clay, Lowndes and Oktibbeha counties. The Golden Triangle Development LINK has also been instrumental in the project.
Speaking at the official Communiversity groundbreaking in December of 2016, Lt. Gov. Tate Reeves said one of the truly unique aspects of the project has been the level of cooperation among the various agencies.
"What the Communiversity is going to represent is government at all levels — cities, counties, state and the federal government — all coming together to help create an environment that will produce the workforce of tomorrow," Reeves said. "That is something in which we can all be proud."