EMCC AUTOMOTIVE TECHNOLOGY CHOSEN BY TOYOTA FOR PILOT PROGRAM
EMCC Automotive Technology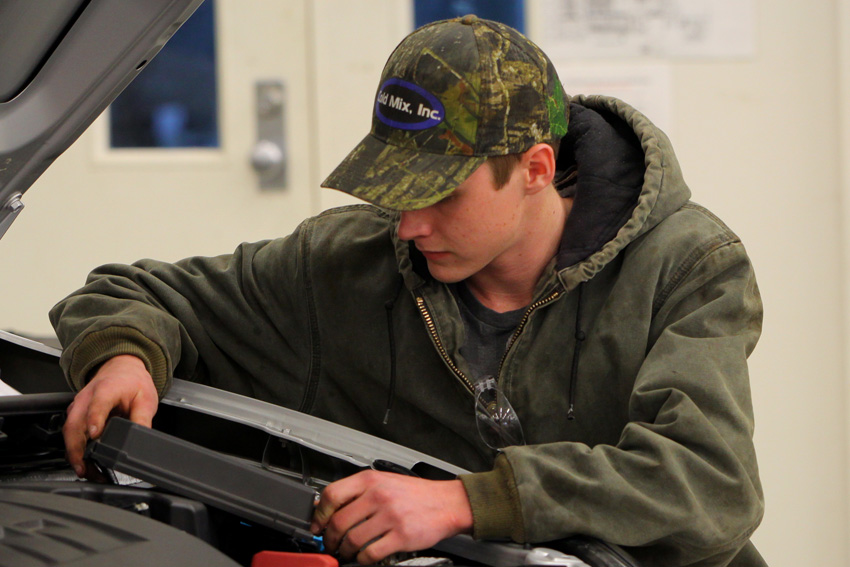 January 12, 2018
East Mississippi Community College is among 12 schools nationwide selected by Toyota Motor Company to participate in a pilot program that will offer Automotive Technology students certification through the University of Toyota.
EMCC will serve as the pilot school for the region represented by Gulf States Toyota, a private distributor of new Toyota vehicles and parts that serves more than 157 Toyota dealerships in Arkansas, Louisiana, Mississippi, Oklahoma and Texas.
EMCC was invited to participate in the Toyota Technician Education Program, which will allow students to obtain official Toyota certification for training modules they complete. Up until this point, only Toyota employees could receive certification through the University of Toyota, which is required of mechanics who work for the company.
Five EMCC students have been initially chosen to participate in the program, which includes both online coursework from the University of Toyota and hands-on instruction by EMCC Automotive Technology instructor Dale Henry.
The five EMCC students are Cameron Bryce Hitt of Eupora; Nathan McNair of Starkville; Logan Sims of West Point; Zachery Walker of West Point; and Richard Woodruff of Louisville.
"I think it is a great opportunity," Hitt said. "If you go to work for Toyota, they are going to send you to school. Since you are already certified by Toyota, you go straight into their workforce."
Training modules are offered in areas such as Toyota Express Maintenance, wiring and electrical, tire, wheel and brake service, and engine control systems, to name a few.
"The certifications they earn through the University of Toyota will stay with them for life," Henry said. "Let's say a student graduates and goes to work at an independent repair shop and five years from now a job opportunity comes up at Toyota. A record of the Toyota certifications the student has earned will pull up in their system.
"The certifications are good for employment at any Toyota dealer in the nation."
There is no additional cost to students to earn the Toyota certifications.
Students already learn the coursework. Henry, a certified Toyota instructor, has completed training modules needed to teach the courses and is continually training for more certifications.
"Close to 100 percent of our students already get the online training through the University of Toyota," Henry said. "The key difference is that while I can give them a certificate of completion, they cannot earn the official Toyota certification like they can through the Toyota Technician Education Program. This really increases their odds of getting hired on by Toyota."
EMCC's automotive program has garnered recognition for recent achievements.
Last July, three students from EMCC's Automotive Technology program competing against their peers from colleges and universities across the nation took home a gold medal and two silver medals in the SkillsUSA Championships in Louisville, Ky.
In October of last year, Houston-based Gulf States Toyota and the National Automotive Technicians Education Foundation held the Toyota Express Maintenance Contest at EMCC. In the contest, students from 12 Mississippi high schools competed against each other in timed maintenance-repair events. It was the first time the contest was held outside the state of Texas.
"The continuing success of our Automotive Technology program is a testament to the quality of our instructors and their dedication to providing students the best education possible," EMCC President Dr. Thomas Huebner said. "We are grateful to Gulf States Toyota for allowing us to participate in this pilot program and to our faculty who have made this possible through their efforts. The real winners are our students who will benefit from this partnership."