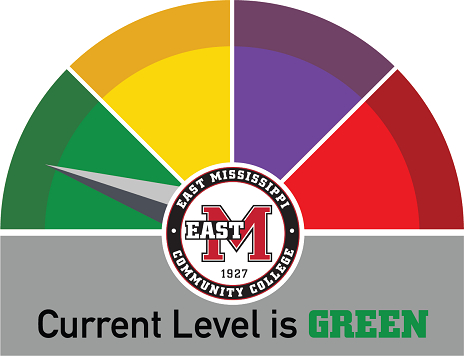 GREEN.
Green is the lowest level of emergency operation. This level encourages handwashing and proper
hygiene, as well as proper cleaning of personal work areas.
• Masks are optional but encouraged indoors and in close contact with others. (NOTE: EMCC has implemented a temporary mask mandate inside all college buildings. This requirement applies to all students, faculty, staff and visitors through Friday, Jan. 28, 2022. We will reevaluate the mask mandate before Friday, Jan. 28, and notify our college community at that time. Faculty, staff and students may remove masks in their personal offices and personal spaces.)
• Increased handwashing protocols are encouraged
• Increased cleaning of personal work areas and classroom space
• Self-evaluation of symptoms
• Required reporting of possible contacts and confirmed COVID-19 infections to Nurse Amy
Ivy at aivy@eastms.edu.
Threat levels will be reassessed weekly or when a particular incident to change in regional COVID-19 protocols warrants it.